Cambodian food might be lesser known than the world-renowned dishes of neighboring countries like Vietnam and Thailand. In some extents, Cambodian cuisine is similar in concepts to above countries. However, Khmer gastronomy is pretty distinct and offers a bit of every flavor. So while in Cambodia, don't miss the chance to check out our list of the best Cambodian foods that you should taste and discover these unique flavors. Here is the list of 10 Delicious Dishes You Must Try in Cambodia!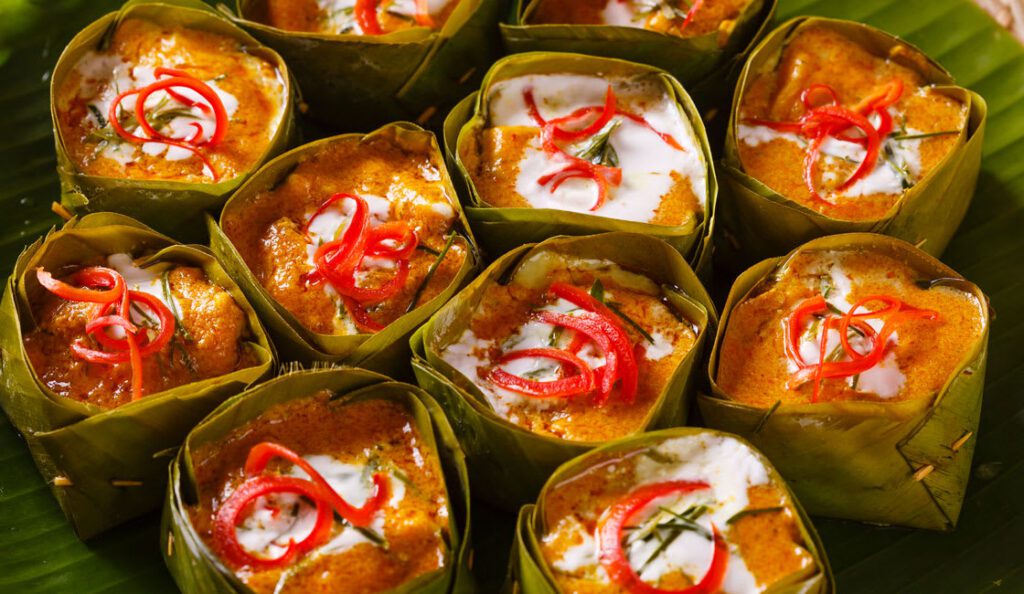 Being known as one of the most popular and signature dish of Cambodia, fish amok can be easily found on menus in tourist hubs all over the country. Diced fillets of freshwater fish are smothered in creamy curry like sauce. The dish is traditionally cooked by steaming in a banana leaf shaped into a bowl, within which it is served with rice on the side. Its distinctive flavor comes from the use of "kroeung" – a Cambodian curry paste, made from pounded spices and other ingredients, such as turmeric, kaffir lime, lemongrass and shallots.
This is in turn mixed with coconut milk, eggs, fish sauce and palm sugar to provide the base for the Amok. When done properly, the fish is silky smooth and melting in your mouth with each bite.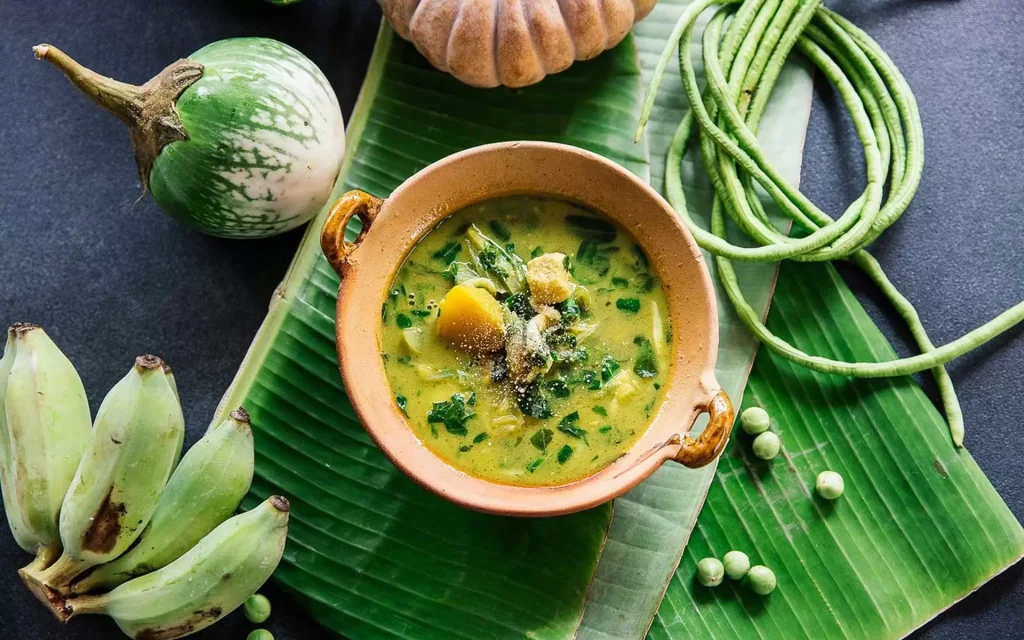 While amok is sometimes called the country's signature dish, and very familiar to tourists, locals voted samlor korkor as the true national dish of Cambodia. It has been eaten by Cambodians for hundreds of years and can be found in restaurants, roadside stands and family homes alike. This type of soup is rich in both flavors and nutrition. Samlor korkor is made from a variety of seasonal vegetables and herbs, including unripe papaya and banana, pumpkin, long bean, eggplant, turmeric, moringa and kaffir lime leaves.
This nourishing soup is so versatile that it can be made with almost any type of meat, but the most common soup version comes with catfish and pork belly. The soup's savory aroma is created by two quintessential Cambodian ingredients – "prahok", a type of fermented fish, and "kroeung", a fragrant curry paste, and is then thickened with toasted ground rice.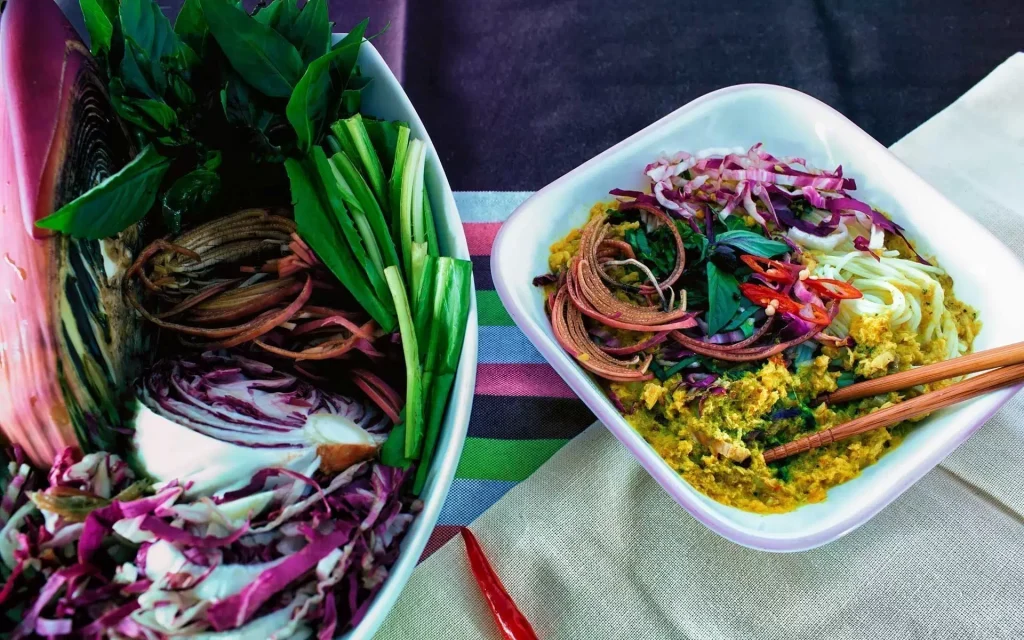 Nom banh chok is simply called in English as "Khmer noodles". It's a typical breakfast food, consists of fresh and thin rice noodles, topped with a fish-based green curry. The curry gravy is made from lemongrass, finger root ginger, turmeric and garlic. When enjoying this dish, eaters add fresh cucumbers, banana flowers, long beans, edible flowers and wild leaves on top. It's simply delicious when being served with a sweet sauce called "tuk paem" made from palm sugar and peanuts.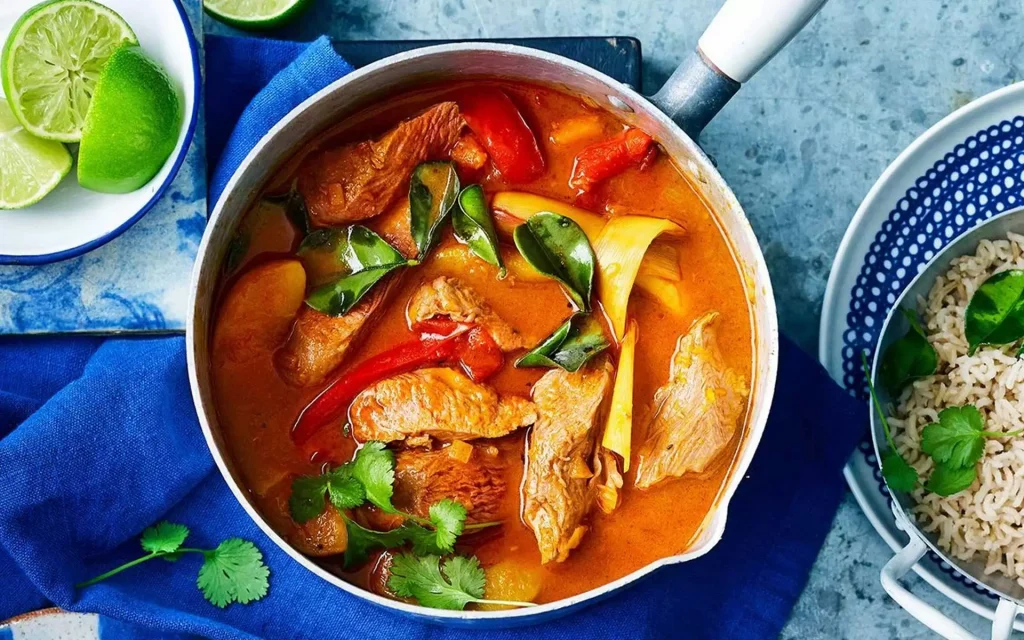 Cambodian red curry is less spicy than the Thai curry, and tends to include more herbs than spices, also milder and sweeter in taste. This rich but mellow dish contains coconut milk based sauce, herbs and dices sweet potatoes, other popular condiments like Cambodian curry paste – kroeung, garlic, shallots, turmeric and ginger. The recipes can be varied with fish, chicken or beef but the most popular version is served with chicken. Accompanied with fresh rice noodles, white rice or sliced bread, Cambodians serve this delicious dish at special occasions like weddings, ceremonies, and religious holidays.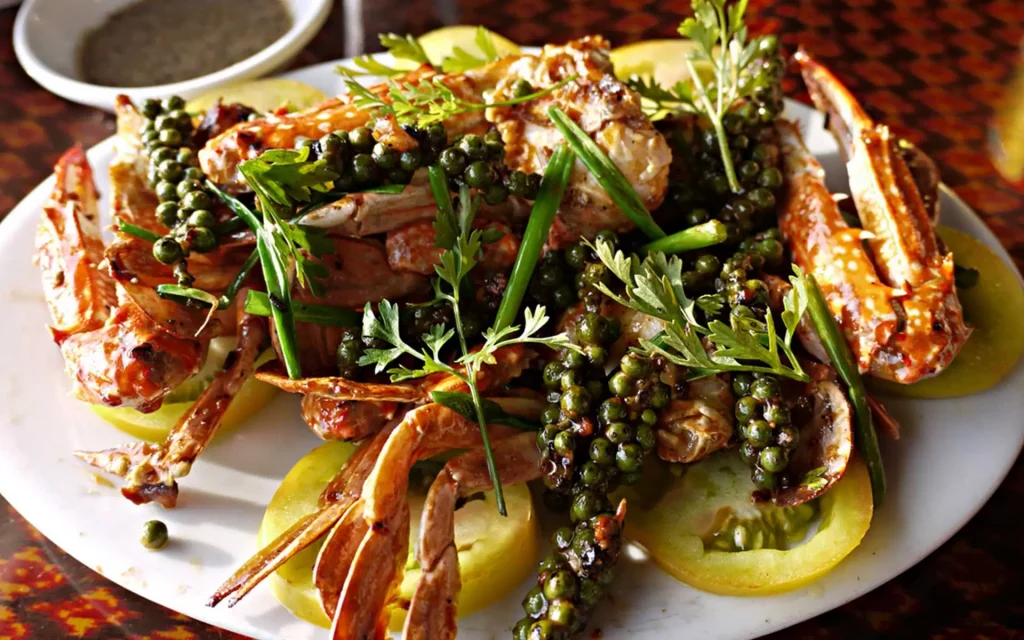 If you make a plan to visit the coastal town of Kep, you surely know that this place is famous for freshest and finest crabs, which are caught daily from the sea, sold at the bustling Crab Market and cooked in little roadside restaurants. The freshest of catches are fried, quickly cooked and simply flavored with immature green peppercorns from Kampot and garlic chives, which turn out to be one of the best dishes in Cambodia.
This savory peppery dish can be found in tourist cities like Phnom Penh and Siem Reap. However, local shacks and restaurants in Crab Market are obvious where the best peppered crabs would be served and enjoyed.
6. Red Tree Ants with Beef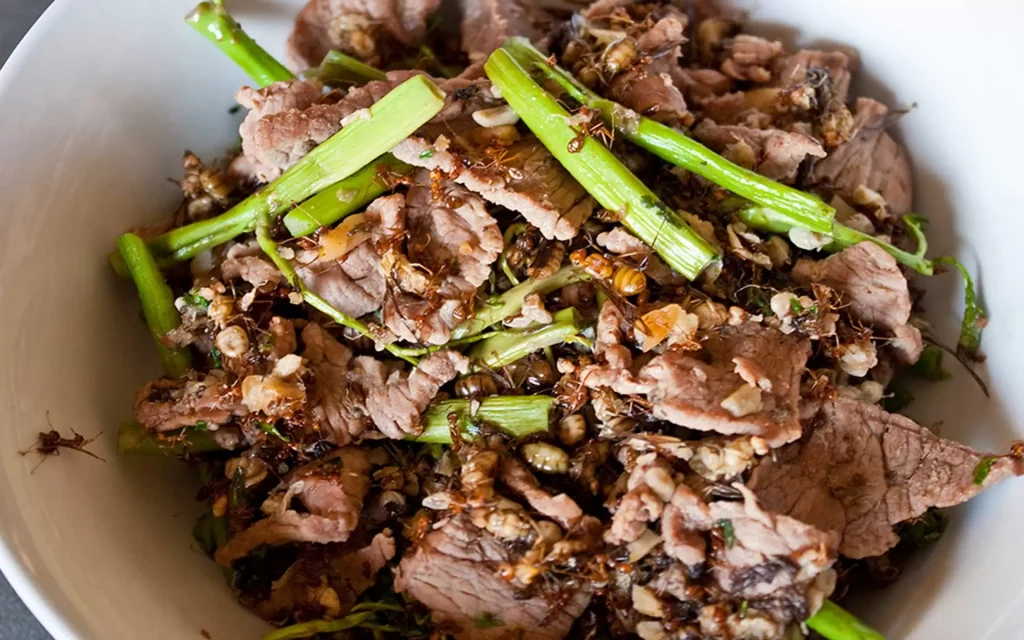 All sorts of insects can be seen on the menu in Cambodia but red tree ants with beef probably is the most appealing dish to foreigners. The most interesting ingredient of this dish is red tree ants in different sizes: some barely visible and others almost an inch long. They are stir fried with holy basil, ginger, lemongrass, garlic, shallots, and thinly sliced beef. This aromatic dish is completed by lots of chilies while the delicate sour flavor comes from the blend of ants and beef. The special dish is served on top of a plain rice bowl. Sometimes, a portion of any larvae is included for extra flavor.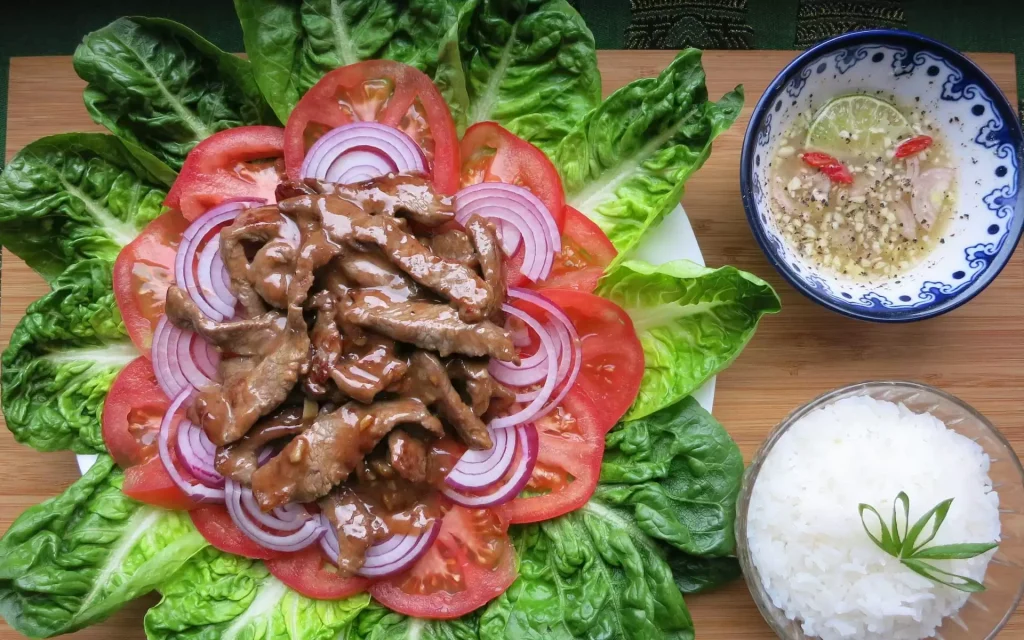 Beef lok lak is a classic Khmer dish made using stir fried strips of tender beef served on a bed of lettuce, sliced tomatoes, cucumbers and rings of raw onions. It's often served with fried egg on top and a portion of rice on the side. The signature of this dish is the dipping brown sauce made by lime juice and Kampot peppers, which make the flavor truly savory.
Lap Khmer is also known as Khmer beef salad, in which thinly sliced beef can be quickly seared or mostly marinated in lime juice. This ceviche-styled dish bursts with flavors of lemongrass, shallots, garlic, fish sauce, Asian basil, mint, green beans, and bell peppers. If you are big fan of spicy food, this beef salad is definitely a must try when you are in Cambodia because it packs lots of fresh red chillies. This's truly a perfect companion for a beer party during a night out on the town.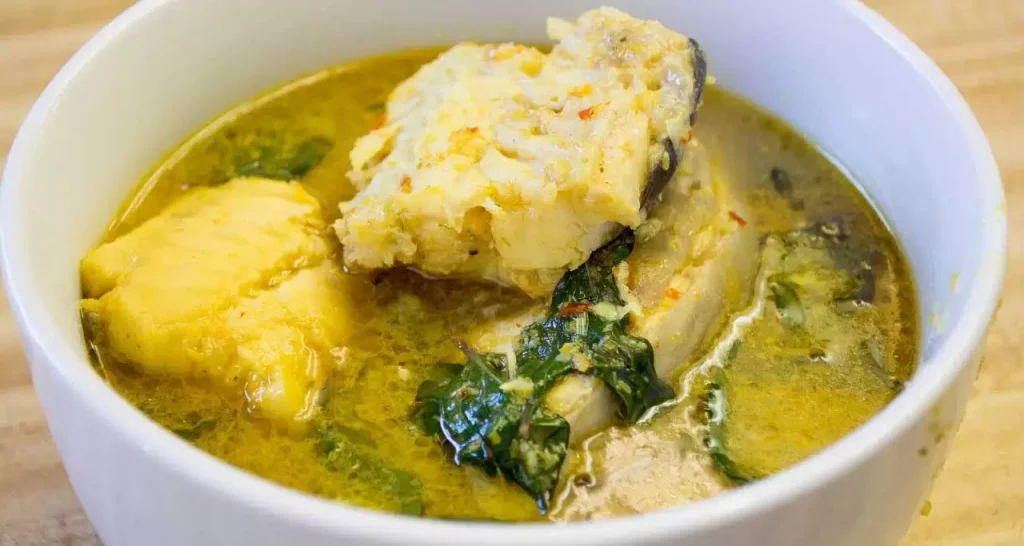 Apart from rice, soup is a crucial element in Cambodian cuisine, and it appears on almost meal of a Cambodian family every day. Samlor machu trey is another soup favorite in Cambodia, which is very easy to make but still has a delicious flavor. The main ingredient as well as the main soul of this dish is Tonle Sap fish. The fish then is seasoned with sugar, fish sauce and salt. Other ingredients are added, such as: celery, garlic, lemongrass, tamarind, bean sprouts, pineapple. This wholesome soup is served with local herbs, including Asian basil and sawleaf coriander, as well as chillies on top. All harmoniously combine to create the sweet, sour and spicy taste.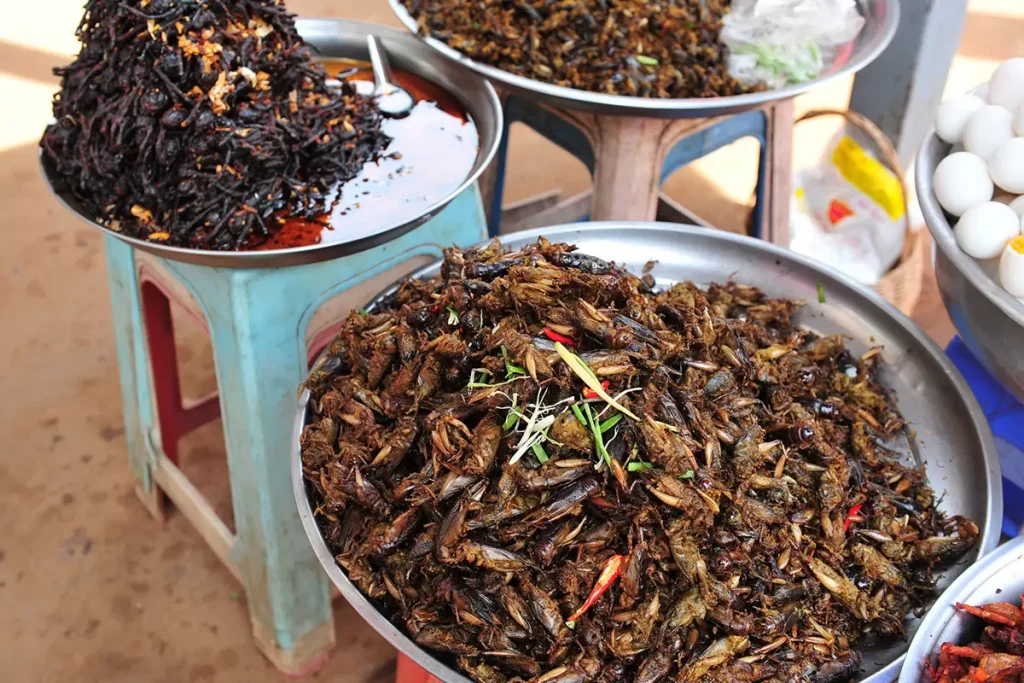 In Cambodia's public markets, tourists can easily see local peddlers selling fried insects like: tarantulas, crickets, cockroaches, locusts. During Khmer Rouge regime, many locals had no choice than eating insects to survive due to severe starvation. Gradually, the practice of eating insects has become a tradition and fried insects are a street food staple in this country.
The most common cooking method of these creatures is deep frying them with chillies and spring onions. They are an excellent source of protein and often go well with a cold glass of beer. More than a popular snack among locals, these creepy crawlies are advertised as a culinary delicacy for tourists, and can be found in markets and on restaurant menus all around the country.
Above list is surely a good starter for gourmets on their first time trip to Cambodia. If you are ready to experience Cambodian food without comparing it to other Asian neighbors, you will be surprised by distinct flavors that make Khmer food stand out. Cambodia Travel team is willing to escort you on the journey to eat and try Cambodian food to ensure happy food trails!