1. Gross Domestic Product
The Cambodian economy enjoyed rapid growth with an average of 7.6 percent per annum from 1993 to 2003, and continued to reach the high growth of over 10 percent per annum in between 2004 and 2007. Due to the global financial crisis of 2009, the trends went down from 6.7 percent in 2008 to 0.1 percent in 2009. However, the trend has been managed to return in 2010 with a 5.9 percent to the robust growth of 7.1 percent per annum again until 2014. In October 2014, the World Bank named Cambodia to join the Olympians of Growth in its economic update, noting that "Cambodia has grown at a yearly average growth rate of 7.7 percent for two decades now making it the sixth fastest growing country in the world over that time period". The Asian Development Bank (ADB) is projecting for Cambodia to enjoy healthy growth at 7.5 percent in 2018 and 7.0 percent in 2019, while maintain the stable trade deficit per GDP at around 13.5 percent in 2019 and manage the inflation for 2018 and 2019 to be within the range of 3 to 5 percent. As envisaged in its Industrial Development Policy 2015-2025, Cambodia has committed to maintain its momentum of growth until 2021 and beyond at the targeted rate, at least 7 percent per annum.
GDP Growth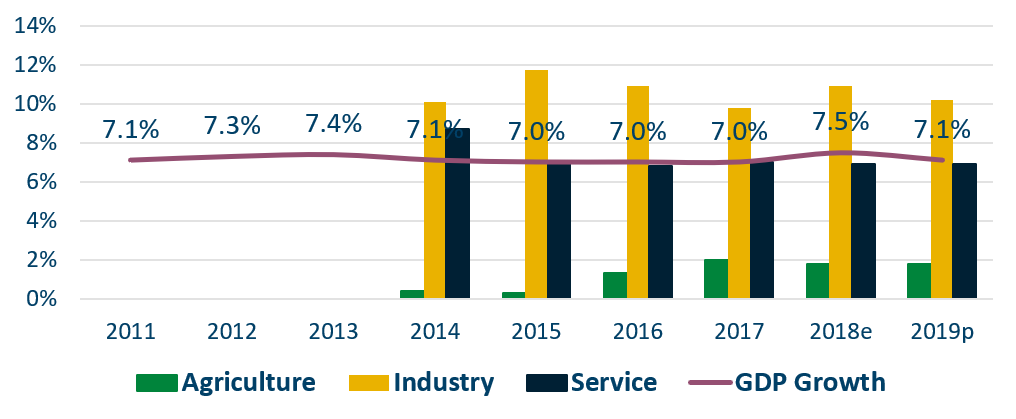 Trend of GDP Annual Growth
According to the Ministry of Economy and Finance, the real GDP growth is estimated at 7.5% in 2018 and 7.1% in 2019. It is projecting for a stable growth of real GDP at 6.1% in 2020.
GDP per capita has also steadily increased from US$1,043 in 2013 to more than US$1,561 in 2018 and continue to increase in medium term in which per capita GDP is projecting to reach US$1,679 in 2019. Inflation is manageable between 1.2% to 3.0% from 2015 to 2020, while maintaining the exchange rate at 4,054 Riels per US$ 1 in 2020.
GDP Per Capita

GDP Per Capita
2. Gross composition
The composition of GDP by industrial sectors is reflecting the characteristics of changes took place in between 2012 and 2015 that the ratio of industry increased from 22.9% to 26.2%, while the ratio of Agriculture, Forestry and Fisheries decreased from 33.5% to 29%. As for "Agriculture", the crops' Gross Value Added (GVA) dropped to 17.1% in 2015, although it grew at the highest record of 27.6% in 2005. The growth ratio of "Fisheries" gradually dropped from 7.2% in 2012 to 6.9% in 2015.
Among "Industry", the "Textile, Apparel & Footwear" experienced a slightly dropped to 9.7% in 2013 from 9.8% in 2012 and managed to increase in 2014 and 2015 to 10.1% and 10.5% respectively. "Construction" enjoyed a steadily increase from 6.5% in 2012 to 8.8% in 2015, while maintaining its prospect for growth in coming years. As envisaged in recently adopted Industrial Development Policy, Cambodia is obliged to increase the GDP share of industrial sector to 30% by 2025 with the manufacturing sector growing from 15.5% in 2013 to 20% in 2025, while diversifying the export of goods by increasing the export of non-textile to reach 15% of all exports by 2025 and promoting the export of processed agricultural products to reach 12% of all exports by 2025.
"Services" occupied 39.4% share of GDP in 2015 while trade occupied a relatively increase from 6.2% in 2012 to 8.9% in 2015. Hotel & Restaurant have seen a fluctuate trend that experienced a slightly increase from 5.14% in 2014 to 5.36% in 2015. Likewise, the growth rates of "Real Estate and Business" were also marginally increased from 6.16% in 2014 to 6.26% in 2015.